If you ever think that the shoes you can wear to the office is only that formal flat shoes, then think again. Dr Marten white shoes will accompany you to work at the office and make you feel better.
The Dr Marten white shoes and other editions are known for their casual vibe. People tend to wear Dr Marten on casual occasion such as hanging out with friend, going to the cafe, etc. However, the idea to wear this to formal occasion is a good thing though. Moreover, the sneakers now is a hype.
Before we go to the recommendation of Dr Martin white shoes for the office outfit, let's see how you can combine these pairs of shoes with the formal outfit.
Do Not Wear Too Long Pants
If you want to feature the sneaker shoes like Dr Marten, the best way is to not wearing the too long pants. The long pants make you look shorter when you wear the sneaker. We suggest you to wear 7/8 or 3/4 pants or even the skirt that will match the most with the sneaker.
The blouse is Better Than Blazer
Blazer looks formal if combined with the white shoes. If you want to look both formal and casual, it will be better for you to wear the blouse.
Wear the Short Socks
To accompany the white Dr Marten shoes, it is better to wear the short socks unless you want to feature a whimsical look. For a formal office attire, the short socks fits better and make you still look formal, professional, and gorgeous as well.
Wear Any Color
The good news about the white shoes are that these good pairs fit many outfit color. You can even wear black, magenta, yellow, or pick the white shade itself! You will love your pair of Dr Marten white shoes just because it is truly amazing just the way it is!
Clean Your Shoes
However, the white shoes tend to get dirty easily. Thus, you might think to clean up your shoes and check whether they had stain on the surface to make sure that they has been polished well.
Now you already know the secret of being stunning with white shades! Let's see our recommendation of white Dr Marten shoes that you can wear when you go to the office!
Black and White
We fall in love with the black and white shades featured in these shoes! The domination of white color blends so well with the black shoestrings. It gives a cowboy atmosphere but still conveys a casual side. This pair of shoe is a unisex outfit that both female and male can wear it in the formal occasion.
Read Related Article: Best Dr Marten Floral Shoes for Hangout!
Dr Marten White Casual Loafers

If you do not like the boots, you can pick the loafers edition of Dr Marten. These loafers are so casual but it also makes you look so powerful. The good news is you can combine these loafers even with the blazer! We love how these loafers look so strong and so characterized!
Dr Marten White Brogues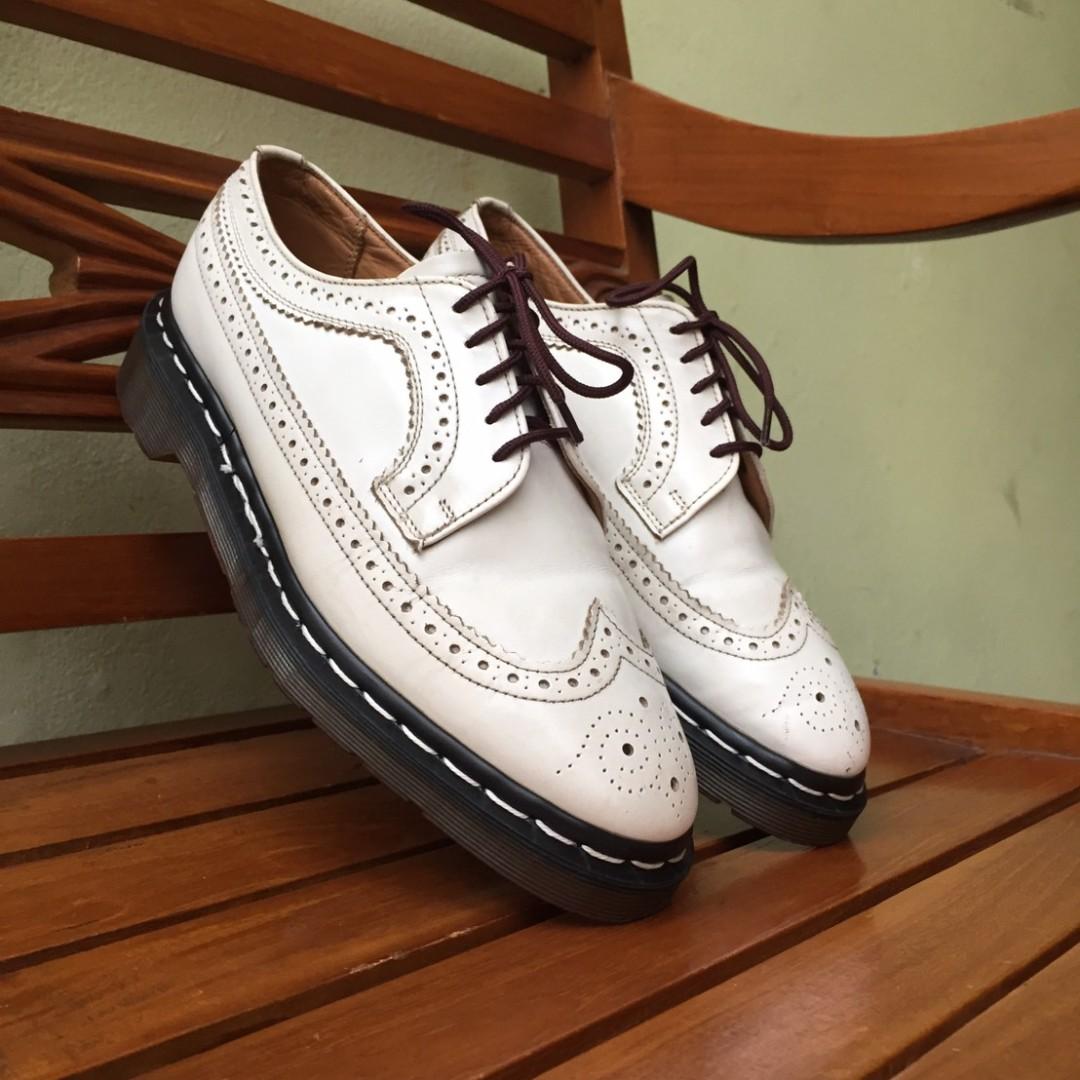 These brogues white shoes are the thing that most women in this love will like. The lacey pattern creates a more feminine nuance. It is a good option for those who want to be more attractive and want a more stunning and playful pair of shoes.
Dr Marten White Quad Chelsea
If you dislike the shoestring accent in your shoes, this Quad Chelsea edition is a good option. It does not has shoestring but it is a semi-boots. The pair of shoes is a nice match to the 7/8 skirt or the formal dress. Moreover, it also features the glimpse of black shades in the ankle parts, which is a nice accent.
White Devon Heart
If you love a girly touch, we recommend this edition. The heart accent made up of the iron creates a feminine nuance but also strong. The high-heeled semi-boots also make you look higher and more proportional in shape.
There are so many Dr Marten white shoes option you can wear to go to the office or other formal occassions. Thus, which one do you like the most? Let's share your opinion and combine your preferred shoes with your lovely outfits! Be dare to express yourself.